Often, for games that have received high user ratings, developers create various modifications (improvements or additions) to simplify the passage or add some interesting details to the game. Today we will tell you how to install a mod on Android.
How to download and install mod on Android
Mods (from Latin Modification, i.e. change) for games are applications that are mostly written by third-party developers or individual amateurs using specially designed programs or SDK. Written for fans by fans, mods are usually distributed free of charge, unlike add-ons, which are various additions to an existing game, created either by the developers of the original game or by a third-party company on behalf of the developer. So, if you decide to 
download mods for your favorite games,
 not from Google Play, then first you need to go to the main settings of your smartphone, open the " 
Security
 " menu and in the " 
Device Administration
 " section check the box " 
Unknown sources
 ": Then download the desired .ark file and move it to the SD card of your Android device. Now we open any file manager, for example,  
ES Explorer
 or a standard file manager (in the screenshot " 
Files
 "), open the " 
Download
 " folder, find our file in it and click on it: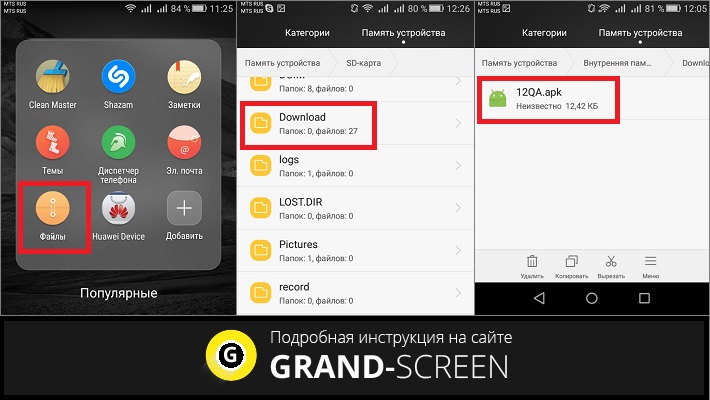 After that, a window will open in which we select " 
Install
 ", and then we act according to the proposed installation instructions. Sometimes, if an Internet connection is required to install a particular mod, you may be asked to use some smartphone functions – we allow it. Many applications, in addition to the installation itself, will need a cache – additional files that are required for the application to work correctly. Such applications are in the archive, where, along with the .ark file, the cache will also be downloaded, the size of which can reach several GB (read more about how to unzip the cache folder and install).
How to install a mod for Minecraft on Android
We have described the standard scheme for installing mods for games on Android. However, there are mods, the installation of which has its own characteristics, for example, for the  
Minecraft PE
 game. Here, the installation largely depends on the version of the game on your Android device. Minecraft fans will appreciate the possibilities of 
Master for Minecraft-Launcher
. This tool will allow the user to edit maps or characters, create their own modifications by following prompts in pop-up windows, use a whole library of ready-made mods, skins, and resources. To work with the application after its launch, set the parameters you are interested in (maps, skins, textures, etc.), it is easy to do this thanks to an intuitive interface in Russian: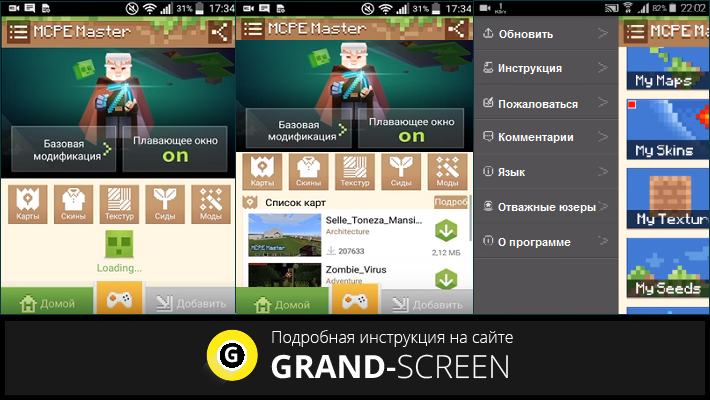 Now you can enter the game, click the " 
Play
 " button and go directly to the gameplay: